If you're thinking of purchasing an elliptical machine, you're making a good choice.
These machines can give you a fantastic, full body workout. The elliptical motion is similar to that of running but without the stress and impact on your joints.
If you go to a local retailer or if you shop online to look for an elliptical machine for sale, you will quickly realize that there are many different makes and models to choose from.
On this page we are going to give you some tips that will help you choose the best machine for your money.
Consider Your Budget – Choose An Elliptical Machine for Sale
Ellipticals are available at a number of different price points.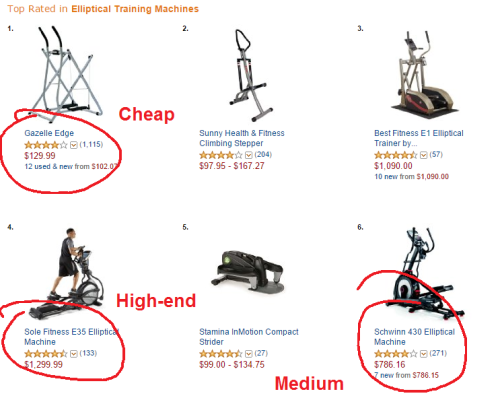 You may be able to find a machine for $300 and you can also find some costing many thousands of dollars. A popular consumer reporting website (*) stated that their highest rated machine cost approximately $2200 but they also noted that there were several other good machines on sale and available for half of that price.
Basically what that boils down to is that if you want to get a good quality machine, you may have to be prepared to spend somewhere between $1000 and $2000.
How Much Space Do You Have Available?
Elliptical machines come in different sizes and you will need to make sure you have enough room for your new piece of equipment.
A typical machine might be approximately 6 or 7 feet long, 5 or 6 feet high, and about 3 feet wide.
If space is tight in your home, you'll need to make sure that the machine you are purchasing will fit in the space you have available.
Some Features You May Want to Look For
Different machines will have different bells and whistles.
Some features may be important to you and some may not be.
Here are some of the common features that you might be interested in.
Heart rate monitor – this will help you stay in your target heart rate zone. If your heart rate is too low, you won't be getting the most effective workout you could be. If your heart rate is too high, it can be dangerous. A heart rate monitor will help you stay in that sweet spot.
Exercise programs – many elliptical machines for sale will come with exercise programs built-in. These programs will automatically adjust the resistance, incline, or other aspects of your workout. You can use these programs to make sure you're getting a challenging workout or also just to change things up once in a while and keep your workouts interesting.
A feature packed console – most elliptical machines will have a console that will give you information like how fast you're moving, how much distance you have covered, the number of calories you burned etc. Some consoles will even have a TV monitor built-in. One feature that a lot of people like is the ability to plug in an MP3 player to listen to music during their workout.
Ergonomics – a well-designed machine will make your workout as comfortable as possible. One way to find a machine that will be most comfortable for you would be to go to a local store and try a number of different models.
If that's not possible, research customer reviews online to see what other people are saying about some of the different options.
If you are looking into Sole Fitness ellipticals, make sure to read my The Sole E25 VS the E35 Elliptical Trainer article.
Some Additional Shopping Tips
Sometimes you get what you pay for and while most of us would like to save money, choosing the cheapest elliptical machine  on the market is probably not the best choice (e.g. Walmart).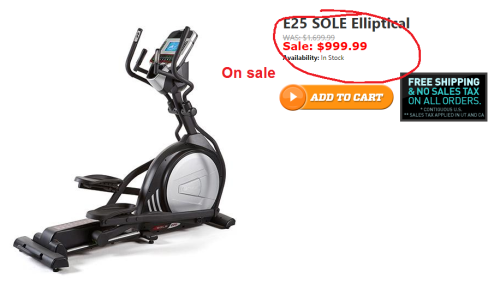 At the same time, you don't necessarily have to go with the most expensive option either.
If you're prepared to spend up to $2000 on an elliptical machine, you will be able to buy a machine that is comparable to the professional quality equipment you would see in a gym, equipment that costs upwards of $5000. You don't need to spend that kind of money, but you will need to be prepared to make an investment of at least $1000 for a good machine.
Do your research before you make a decision – read reviews and ask around.
An elliptical machine can be very expensive so it's important to do your homework before you invest your money. Try out some different machines if you can and research customer reviews to hear the opinions of people who have used a machine you are considering.
This type of information will help you make an educated decision. N.B. The Sole E25 is a best selling elliptical machine currently on sale.
The Sole E25 elliptical is on sale, check out my review here >>